"Excellent and we'll written stories. The author touched on so many different topics while keep in entertaining, workplace relationships, infidelity, marriage, good relationships, trust and forgiveness. The character development was good and relatable. I enjoy a happy ending." Amazon Review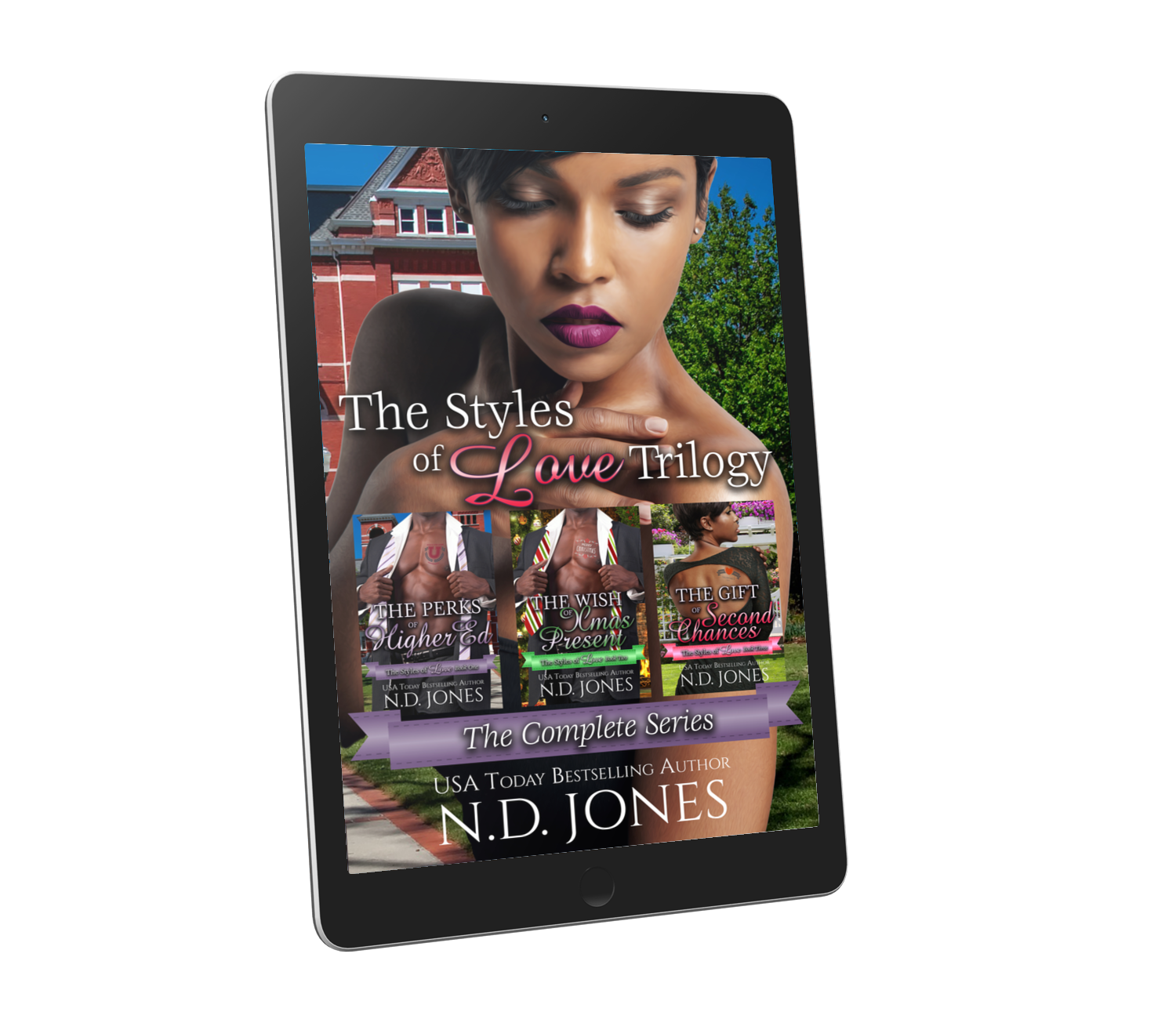 The Styles of Love Trilogy
Publication Date: January 3, 2020
Genre: Contemporary Romance
Series: The Styles of Love
ASIN: B081XF1XB9
Buy Online
The Styles of Love--A Perk, A Wish, and the Best Kind of Gift
The Perks of Higher Ed: An Office Romance (Book 1)
When met with Dr. Malcolm Styles' warm charm and inviting sense of humor, Sky finds herself wanting things she never considered were missing from her life. While an office romance is dangerously out of her comfort zone, Malcolm challenges Sky in ways that shape her as not only an individual but as an educator. However, with her past carried so closely behind her, Sky realizes it will take more than a handsome face to free herself from its grasp.
The Wish of Xmas Present: A Christmas Romance (Book 2)
As love blooms and familial bonds are forged, the spirit of the season welcomes us home and offers us a chance to dream. Dr. Malcolm Styles and Dr. Sky Ellis's whirlwind office romance, a sexy perk of higher ed, has swept them off their feet. Now that the winds of change have settled, Malcolm and Sky find, as the Christmas holiday approaches, a chance to make a deeper connection.
Book 3: The Gift of Second Chances: A Valentine's Day Romance
For Dr. Angela Styles-Franklin and her husband Sean, the past twenty years come to a head when the truth about a brief affair threatens to dismantle their family. Angie must face the rough road before her.
Excerpt
"I'm not upset. I just have a couple of things on my mind." He glanced down at his crumb-covered shirt and frowned. "That's not sexy. Forget you saw me inhale almost two bags of popcorn. That's not the image I want you to have of me."
"I'm sure you didn't become a junk food junkie tonight, Malcolm. The longer we spend time with each other, especially in our homes, the more we'll see the less flattering sides of the other person."
"Are you ready for that?"
"I think it's you who's not ready. I don't expect perfection from anyone, least of all myself. I know the parts of me that are jagged shards and dull blades. If nothing else, I'm painfully honest with myself. So much of my life was an ugly lie and one painful truth."
"You think I'm lying to you about something?"
"No, I think you're lying to yourself. About what, I can only guess. If it's about me, then tell me. If it's not and you want an ear, then you have mine. If you want to keep it inside and bury it under popcorn, that's also your choice. Just don't pretend everything is fine with you when it clearly isn't."
"Why don't you keep any of your things at my house? You're there as much as you're here."
When Malcolm hadn't mentioned moving in with him again, Sky knew his silence had to be the calm before Malcolm's oversensitive storm. The walking heart that was her boyfriend lasted longer than she thought he would, today's gorge fest and sulking six weeks in the making.
Sky removed the bowl of popcorn from Malcolm's greedy hands, placed it on the nightstand next to her, and then straddled Malcolm's waist.
"What are you doing?"
"Making sure I have your full attention."
"You always do."
Tonight, she hadn't, but that was okay. Sky kissed Malcolm, the way she should've when he'd arrived. Long, deep, and with her tongue in his mouth and her hands on his head.