Unleash your creativity and delve into the deliciously dark world of Ghoulish Goodies: A Horror Desserts Coloring Book.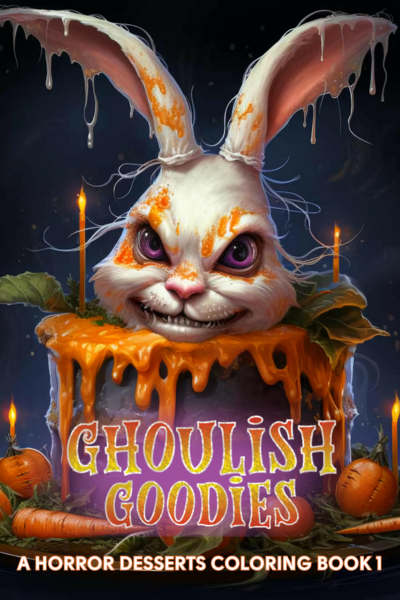 Ghoulish Goodies: A Horror Desserts Coloring Book
Publication Date: July 12, 2023
Genre: Fantasy Coloring Book
Series: Ghoulish Grub
ISBN: 978-1088197493
Buy Online
Color Your World
This captivating coloring book features 54 spine-chilling images of creepy desserts that will both tantalize your taste buds and ignite your imagination. From the hauntingly scrumptious Dreadful Harvest Apple Crumb Pie to the sinfully decadent Graveyard Delight Brownie, each page invites you to add your own artistic flair to these wickedly delightful treats.
Whether you're a horror enthusiast, a dessert lover, or simply a fan of all things macabre, Ghoulish Goodies offers a unique blend of creepy and creative. Let your imagination run wild as you choose your colors and breathe life into these delectable horrors.
Perfect for adults and kids alike, this coloring book provides hours of entertainment and relaxation. Get lost in a world where wicked desserts reign supreme, and let the stress of the day melt away as you immerse yourself in the intricate designs and hauntingly captivating atmosphere.
So grab your coloring tools, summon your creativity, and embrace the spooktacular fun that awaits within these pages.