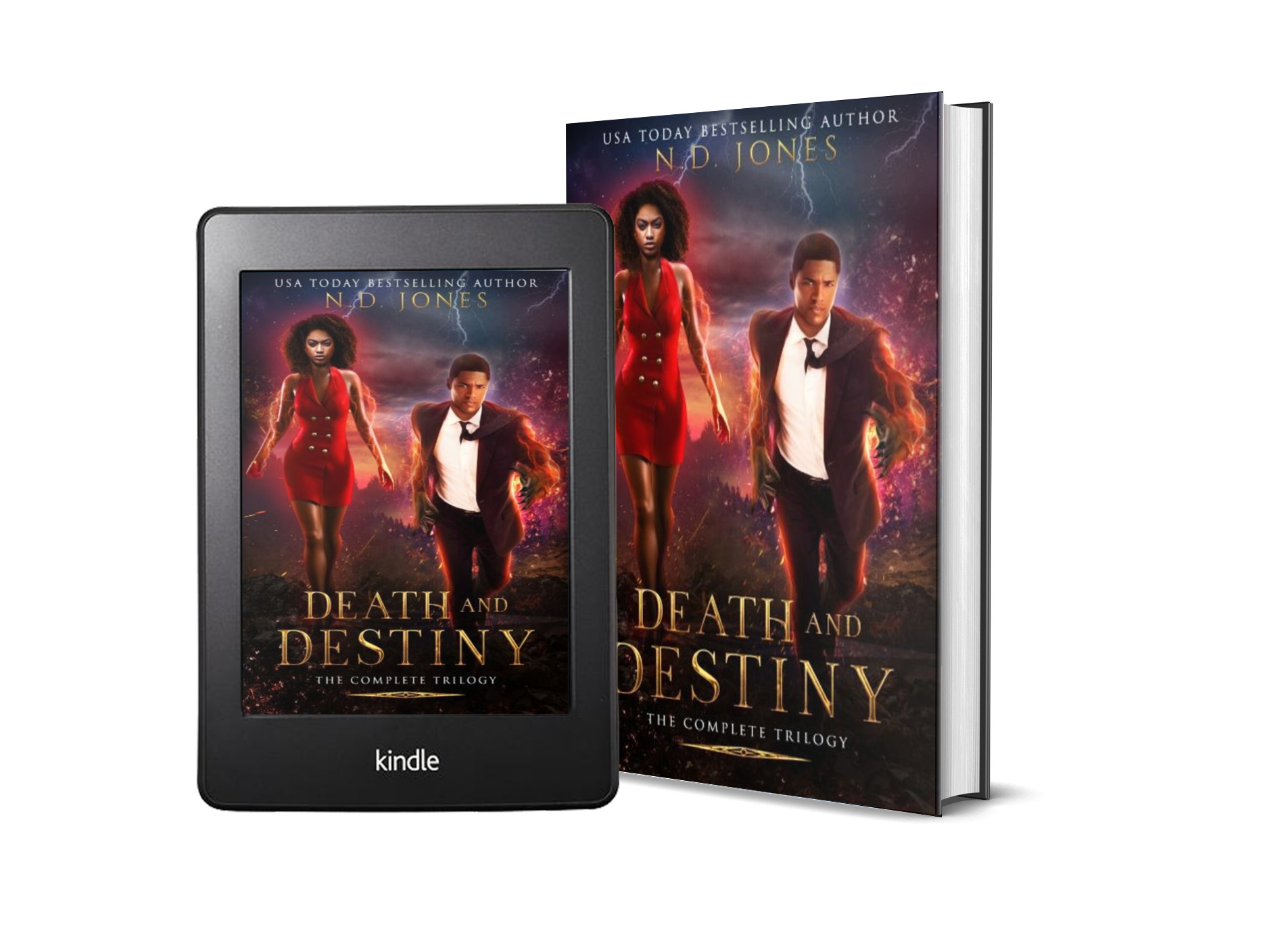 "I've spent the last 4 days reading this trilogy. I just had to finish this series. It was excellent! Definitely filled with adventure, suspense and everything mythical. I would love to see this on the big screen." Amazon Review
Publication Date: September 30, 2020
Genre: Paranormal Romance
Series: Death and Destiny
Cover Design: Atlantis  Book Design
ASIN: B085WZRFBL
Buy Online
Sanura Williams and Assefa Berber are the prophesized Fire Witch and Cat of Legend. They are destined to defend humanity against ancient gods and mythical monsters. But destiny is not the same as desire. For Sanura and Assefa, a witch and a shapeshifter, they must overcome their fears, bond their inner spirits, and accept their fate. If not, innocents will die, cities will flood, and beasts will rule.
In a world where nothing is as it seems, the seeds of love take root on the precipice of chaos, danger, and a great destiny.
Sanura and Assefa are the One True Pairing. Their destiny is to fight. Is it also to die?
Death and Destiny Trilogy
Book 1: Of Fear and Faith— In the shadow of an ancient prophecy, two individuals will be drawn together to meet a dangerous calling--or die trying.
Book 2: Of Beasts and Bonds— To save the world from Mami Wata, a water goddess with a bloody thirst for power and an insatiable appetite for death and destruction, they must defeat her beasts and the Water Witch of Legend.
Book 3: Of Deception and Divinity—A mighty war, waged every 500 years, has returned to the realm of mortals. And with it, the Day of Serpents arrives to wreak havoc upon the world.


"I truly enjoyed this series. It had everything I could ask for - mystery, passion, chemistry. I laughed and cried. Definitely a well written page turner." Amazon Review