MYTH, MAGIC, MONSTERS
OF BEASTS AND BONDS: DEATH AND DESTINY TRILOGY, BOOK 2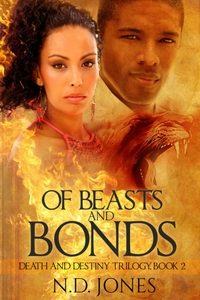 In a paranormal world of mystery, mythology, and magic, sometimes old bonds must be broken before new ones can be formed. Who knew that finding one's soul mate would test bonds and unleash beasts?
Mami Wata and Oya are now free from their watery prison and ready to wage a battle five hundred years in the making. Special Agent Assefa Berber and Dr. Sanura Williams are the prophesized Cat and Fire Witch of Legend. To save the world from Mami Wata, a water goddess with a bloody thirst for power and an insatiable appetite for death and destruction, they must defeat her beasts and the Water Witch of Legend.
Available in PDF, ePub, and Mobi formats.